PDF417 code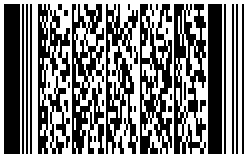 Using PDF417 code can encode any data:
• 2710 numeric characters,
• 1850 alphanumeric characters,
• 1108 eight-bit binary data.
The size of PDF417 code is determined by count of informations and count of correction codes.
The smallest PDF417 Code symbol is 90x3 modules and the largest is 583x90 modules.
For checking and recover data PDF417 codes uses Reed–Solomon error correction.
Level of correction codes can be in range from 0 to 8 (add to code additional correction codewords from 2 to 512).
For more information about PDF codes please visit Wikipedia site.