Code 16K is based on Code-128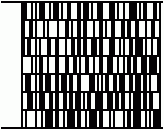 Code-16K allows you to encode any characters with codes from 0 to 127.
Size of single code is deppend on size of encoded information.
Single code have from 2 to 16 rows, each row encode 5 characters.
Single Code-16K can contain:
• 154 numeric characters,
• 77 alphanumeric characters.
Code-16K can be linked up to 107 codes to encode long message (3 modes).
107 linked codes can encode:
• 15863 numeric characters,
• 8025 alphanumeric characters.
For more information about Code-16K please visit Wikipedia site.